How to Participate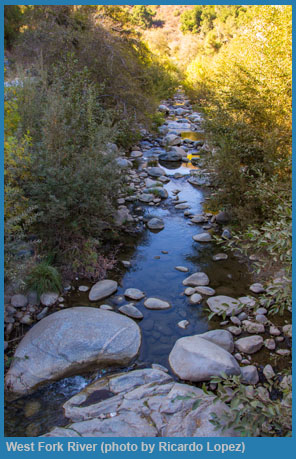 FreshWaterLIVE provides teachers, students and the general public with informative and interactive ways to learn about freshwater. Check out this web site to:
WATCH A VIDEO and join scientists as we follow water on a journey through a watershed in the Western United States. The video travels from the headwaters in the mountain peaks, through the protective forests, into our cities and countryside, and ultimately to the sea.
WATCH A VIDEO following water on a journey through a watershed in the Eastern United States.
WATCH A VIDEO taped live at Grand Lake, Colorado, featuring questions from students and answers by Carl Chambers, a U.S. Forest Service hydrologist, and Bob Raynolds, a geologist with the Denver Museum of Nature & Science.
Resources are available on this web site to:
Get students and the public involved in freshwater.
Educate students about the importance and conservation of freshwater resources.
Develop an understanding of water as a limited resource.
Understand the role of citizens, public land management agencies, and non-governmental organizations in protecting and conserving natural resources.
Meet national science education standards as they relate to water.
In addition: