Video Links
A Deeper Creek: The Watchable Waters of Appalachia
From Freshwaters Illustrated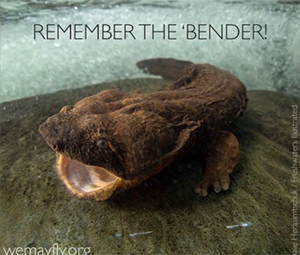 https://vimeo.com/103358996
Dive into some of North America's richest rivers, and a fun look at an innovative river snorkeling program that has brought thousands of citizen snorkelers to the vibrant waters of Southern Appalachia.
The Last Dragons: Protecting Appalachia's Hellbenders
From Freshwaters Illustrated
https://vimeo.com/108512185
An intimate glimpse at North America's Eastern Hellbender, an ancient salamander that lives as much in myth as in reality . . . and in many waters, myths are all that remain of these sentinel stream-dwellers.
Moose Drool Phase III Watershed Restoration
From the USDA Forest Service
https://www.youtube.com/watch?v=mIQXfgjrg8E&feature=youtu.be
This video highlights stream restoration work, decommissioning, removing culverts, recontouring the road, restoring the floodplain, and placing large debris for habitat stabilization the Iron Creek Little North Fork Coeur d'Alene River subwatershed on the Coeur d'Alene District on the Idaho Pandhandle National Forests.
More Kids in the Woods: Discover the Thrill of the Chill
From the USDA Forest Service
https://www.youtube.com/watch?v=KbCjvGRd4aI&feature=youtu.be
This video captures sixth grade students engaged in winter ecology activities on the Grand Mesa National Forest. Students are learning to cross country ski, and learning about snow science, snow water content, winter and avalanche safety, and animal winter survival adaptations.
Virtual Tour of a Drinking Water Plant
From the US Environmental Protection Agency
http://water.epa.gov/drink/tour/
Your public water system is the first line of defense against waterborne disease. View step-by-step how water is treated and delivered to your home or business as water that is safe to drink. Your drinking water is inexpensive compared to other household costs. Learn why it is important to keep the environment clean and find out what you can do to protect our nation's sources of drinking water. Fun facts and classroom activities are also featured. This video can be viewed in English and Spanish.
Watersheds
From WaterMattersTV
https://www.youtube.com/watch?v=LJ63xGJY4pM
The video, targeting middle and high school students, discusses the function of a watershed and how human actions affect the health of a watershed and the quality of water within it. The difference in point and nonpoint source pollution is explained along with the process of water quality testing and the importance of wetlands to filter impurities in an ecosystem.