Webcast Info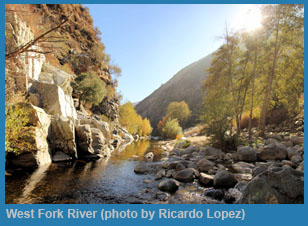 Save the date for Thursday, September 28, 2017 for a FREE LIVE program from Colorado that explores fresh water and watersheds. Multiple options will be available for watching and participating. More details will be available soon. Join during any of these times and the content is the same:
9 – 9:45 a.m. (MT)
10 – 10:45 a.m. (MT)
11 – 11:45 a.m. (MT)
12 – 12:45 p.m. (MT)
A distance learning adventure about fresh water was previously held in October 2015. CLICK HERE to watch FreshWaterLIVE: A Distance Learning Adventure, an exploration of the origins, travels and perils of fresh water from green forests to household faucets. FreshWaterLIVE brings learning about fresh water to students, teachers, non-formal learners, and all who have an interest in this important resource. Also, check out the resources on this web site to start your online exploration.